Hello there friends. I asked Kelsey to guest post and she sure came through! We met at the Texas Style Council Conference back in March and had such a great time together. You're gonna love her! Also, she loves stripes, just like me! Oh gosh, we're so much alike! So, after you read this, go check her blog out!
Well, hello there! I'm Kelsey from Snappy Casual, and I'm glad to be visiting Rose à la Mode again (you might remember me from here or here).
Linda and I are friends for a lot of reasons, but I think mostly it's because we're both Midwest girls who married money nerds. Hence, we've both had to learn how to dress on a budget (mine is $10/week!).
There are so many great trends I want to try this spring, but I know my bank account can not handle buying a new wardrobe! I went to my closet to see how I can pair what I already have with a few new, but inexpensive, items. I'm thinking that you probably have most of these items in your closet, too! Let's take a look, shall we?
1. Solid colors. These little gems are crucial for color blocking. Take a solid colored top, solid colored pants and solid colored shoes, and then wear them together. Boomsauce, you are stylish. Easy, huh? If you need some solid colored pants, may I suggest these in coral?
2. Fedora. I think hats are extremely underworn. They really add so much to an outfit! If you don't have one (or a husband you can steal one from), I picked this $12 fedora out just for you. (You're welcome.)
3. The color coral. Do you have a pink or coral shirt, skirt, necklace, scarf, earrings or bracelet? How about some coral nail polish? It's the hottest color right now! I was actually with Linda in Texas when I bought this top. She peeked over from the other dressing room and gave it her approval. I haven't taken if off since…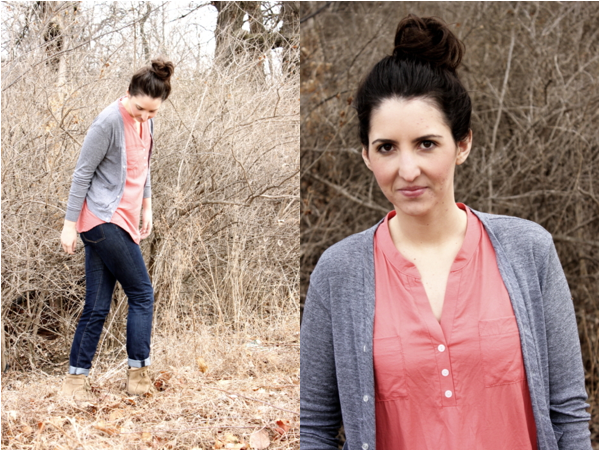 4. Stripes! Stripes! Stripes! Let's face it, you can't go wrong with stripes. It's like a party on your shirt. I had a few striped tops already, but this tunic is vintage and only cost me $5.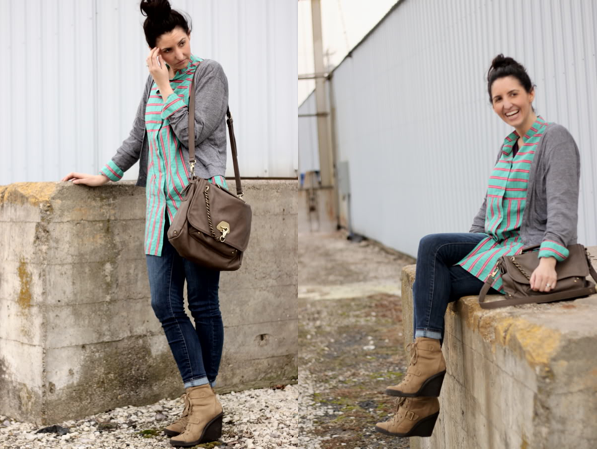 5. A floral dress or shirt. This dress is six years old and this past weekend I found it hiding in my closet! It's sure to be a great day when you're wearing flowers. No water necessary!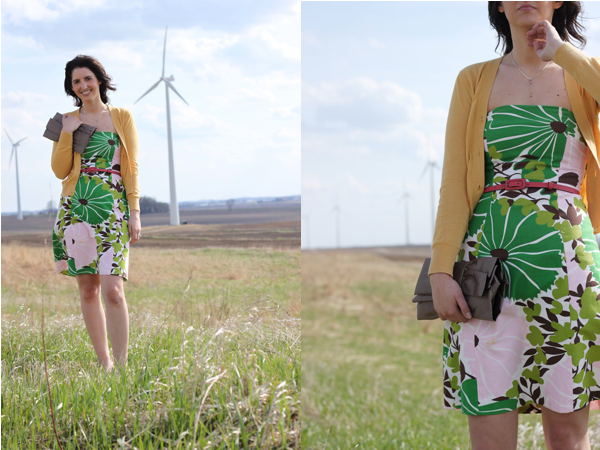 6. Retro swimming suits. I've been dreaming of owning this reversible one, but could only afford this adorable one-piece. We're going to the beach next month and I am so excited! Sorry, I can't seem to find a photo of me in my swimming suit…ha!
7. Cutoff shorts. If you don't have cutoffs, take a pair of jeans that you don't wear (or get some for cheap at a thrift store) and make some! These jeans are from high school and rather than donating them, I made them into long shorts. If your jeans are a little baggy, they'll work best!
8. Maxi dresses or skirts. In the first few days of spring, when my legs aren't shaved tan enough to be seen quite yet, a maxi is the perfect solution! I scored this purple dress for a good deal at TJ Maxx two summers ago.
What are you guys loving this spring?