We've got some more tips for you today. This time from Kelsey at Snappy Casual! This girl is so stinkin' cute! Plus she's got a series on how to shop online that will change your life. Check out her thoughts, ideas, and suggestions. And go visit this gal's blog. You're gonna love her!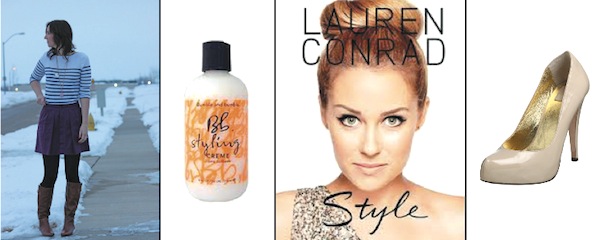 1. What is your go-to item?
My go-to item lately has been Breton stripes. Or any striped shirt, really. (I didn't even know they were called Breton stripes until recently.) There's just something really attractive to me about stripes. I don't think there is any other way to be so comfortable yet still look classy.
2. What is your secret weapon? (Moroccan Oil? Great shoe insoles? Spanx? Give it up!)
Bumble & Bumble
hair products. My husband jokes because one time I guess I said, "Your hair defines you." Now, I am not shallow enough to truly believe that, but I do think hair is really important (you can only imagine how I feel on bad hair days). Hair is generally one of the first things people see and it frames your face. So I spend a lot of time on my hair every day and LOVE Bb products. I have a lot of natural texture so it just helps to bring that out. The best products for me are prep, styling lotion and surf spray.
3. What is on your (realistic) wish list right now?
Oh, my "clothing needs" and "clothing wants" lists are embarrassingly long right now. I just went through a closet cleansing and am working my way to a fully stocked closet. I have learned so much about my style since taking outfit photos every day, and as a result I'm shopping smarter now. At the top of my wish lists are nude patent closed-toe heels
, oxfords, jean shorts and fake glasses. So I guess I'm ready for spring!
4. How do you keep things fresh every day?
I try to take risks and keep people interested. My goal is to look different than I did the day before–with simple things like rolling my jeans, curling my hair, straightening my hair, wearing a headband, painting my nails, wearing colors that are cleverly mismatched, tying a scarf in a new way, adding a belt, wearing two belts, sporting bright tights, wearing a bold necklace, etc. Before I started my blog, I used to repeat outfits all the time. I don't do it as much anymore, but I will repeat the same pieces and just spice it up with rolled sleeves or a different necklace. I try to push myself to turn a shirt and jeans into a thought-out outfit by using accessories. Just be different than those around you and you will stand out.
5. If you could go shopping with anybody, who would it be and why?
Lauren Conrad. While reading her Style book
I learned that she really knows her stuff. She understand fabrics and fit and how to play up certain parts of the body, and we have very similar tastes.
6. Who is your fashion icon?
I steal inspiration from everyone around me, but my first fashion icon was my nana. She is almost 80 years old and still wears red lipstick and heels every day. And don't even get me started on her leather pants.
For celebrities, it's Jessica Szohr. I love everything she wears. She gives off a very laid-back vibe, yet she always looks stunning. I also love Mary Kate and Ashley Olsen, but I can't relate as well to their looks or wear grunge to the office.
7. What's the most important thing you've learned about fashion?
I've learned that there really are no rules. For some reason I think people are scared that they'll mess up with fashion. There are certainly ways you can dress to suit your body shape, but there are no hard rules. I love black and brown together. I love a blazer and a skirt with my Converse. Wear what makes you feel good, and try not to care what other people think.
Also, I've learned from reading other style blogs that I don't necessarily want to see someone in a new outfit every day. I feel much closer to a blogger if I can become familiar with the pieces in her closet and learn from how she restyles her clothes to make each outfit different.


8. What do you do to keep yourself fresh and looking great during travel/vacation?
This is a toughie! I am very low-key when I travel (leggings and flip flops in the airport for sure). I would like to make more of an effort at this, though, and go for dangle earrings with my swim suit and cover-up when we're boating or at the beach. But I think it ultimately goes back to hair. My hair is naturally wavy, so I need to know how to style it when I'm traveling to humid weather and how to make it look great when I don't want to spend a lot of time on it. For me the best part about being on vacation or traveling is being breezy, so I think throwing on lip gloss, sunglasses and a hat sounds perfect. Makeup-setting spray can also help keep your face together if you're out and about.
9. What is the best cheap/drugstore item that is totally underrated?
Dry shampoo
! I've tried a couple different brands and this year I really want to train my hair to not be washed every day. Does anyone have tips on this?
10. What is the one item you should splurge on?
I need to take my own advice here, but I think investing in a quality hair straightener, dryer and curling iron makes a lot of sense. I think I could get ready a lot quicker in the morning if I had those (wink wink to my carpool buddy, aka my husband).