So, you've all seen my white watch, right?
Well, I'm totally obsessed with it. I pretty much wear it with EVERYTHING! Almost every outfit gets the white watch added. It's true. Just take a look around!
The problem with this white watch is, I can't find a replacement! It was from Forever 21 and I have loved it for 3 years now. It's still doing pretty good, but I can tell it's not going to look great too much longer. So, I've been on the hunt for a new one ever since. Everyone is wearing the watches with the rubber band. I like those, but not for my white watch. My white watch needs a leather band. Have you seen Oprah's? Her's is ridiculously amazing. I would take hers in an instant. Not sure where she got it, but I'm sure it was more than $11. (Best money I ever spent!)
So, here's one I found that I'm in love with. I would take it and wear it out, if that's even possible. It's pretty expensive, but I don't even care. Wish it would be gold and silver though. That's my only wish though.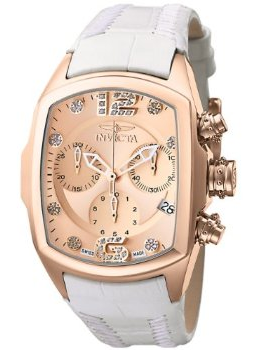 Invicta Women's 6826 Lupah Revolution Collection Chronograph Diamond Accented White Leather Watch