Have you ever seen that e-card that says, "Getting dressed would be so much easier if my Pinterest closet were real?" Well, I was looking at Pinterest and realized that there are sooooooooo many looks that are totally do-able with things already in my closet. When I realized this, I created a board called "Wear It" where I pin things that I can actually wear without buying anything. So, I pulled these three pins to show you how to recreate these looks using things you probably already have (or are planning on adding to your wardrobe anyway) and tell you why they're Pin-worthy.
For some of you, this may be a no-duh. But I really found this to be really helpful in realizing my potential. Here we go.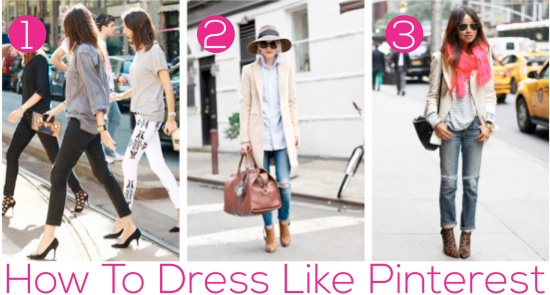 1: It's All About How You Throw It On. Let's break it down. She's wearing only 5 items a chambray shirt, black skinnies, heels, a clutch, and a bracelet. Easy. Now, what makes it special is the way the shirt is tucked, sleeves are rolled, and her tousled hair.  And she's done. I mean, really. That is so simple! And fabulous! (source)
2: Accessories are Key! This next one is really very simple again and is completely glamorous. A classic coat (or trench), a simple button down, ripped jeans, ankle boots. The things that make this outfit so special are the accessories. Mainly that hat. A knit beanie, a panama hat, or baseball cap (depending on the time of year and your personal style) would add equal excitement when paired with a cool bag and sunglasses. (source)
3: Get The Right Fit. And Add Color To Neutrals. This last photo is from Sincerely Jules. She is the queen of cool and this look is the perfect example of that. This is her style. And if you like it, you can create the same look. But pay special attention to the pants. They are the perfect I-don't-care-what-I-look-like-but-I-look-amazing fit (you could probably buy some thrift store jeans to create this look, but you really have to have confidence in them. Otherwise, you're better off spending a little dough on a pair that fit just right). She then has a t-shirt (a little on the loose side), blazer, black bag, and leopard boots. What makes it stand out, is the fit of the pants and that bright scarf. Without the scarf, this would be a boring old outfit. But with it, it all comes together and creates something special.
So what do you think? Easier than it (sometimes) feels?